Rigid R4510 Table Saw Impressions
Why I picked the Rigid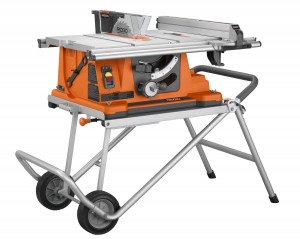 I have been looking to buy my first table saw.  I am interested in getting started in hobby woodworking.  My plan is to start with smaller furniture projects and see how I do and how they turn out.  My first planned project is to build a night stand.
Since I am starting out, I decided to start with a cheaper table saw.  I realize it will not be professional quality, but there is no sense in spending thousands of dollars if I end up hating or being very bad at woodworking.  So my goal is to spend around $400-$600 on a saw.  I also have a smallish work space, about the size of a single car garage, so having a table saw that could be moved out of the way, might be helpful.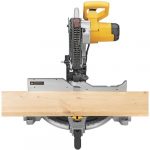 Two years ago I purchased this Dewalt Miter Saw.  I have used it mostly as a "chop saw" to handle repair and remodeling projects around the house.  But I was very pleased with the clean and accurate cuts that it produced.  I also own a Dewalt reciprocating saw that I like as well.  So I initially considered the Dewalt table saws.  My list of contenders was:
Needless to say, I went with the Rigid.  The price/feature ratio is what sold me.  I would have loved to have purchased the big Dewalt, but I couldn't justify spending $200 more at this point.  If I really use this a lot, I am sure I will want a nice ($1000+) saw and not any of these.  So I consider this a starter saw.
My First Impressions
The thing is freaking heavy (100+ lbs).  You will need help moving the box around.
The

assembly instructions for the stand are a joke

.  It is a single diagram with a dozen bullet points.  Best I can tell, the first few bullet points come pre-assembled (maybe these instructions were provided with older different packaging?).  The rest of the bullet points are confusing as hell.  Get a six pack ready for when you finish.
The

stand is really convenient

.  Given the weight, I thought raising and lowering the stand would be a pain, but it is remarkably simple.
The

saw arrived fully calibrated and aligned

.  I checked the blade alignment and it was straight and true on all angles.  The fence is perfectly true, even out to the full 26.5 inch rip.  (For whatever reason, I seem to get about 1.5 inches more capacity than advertised.

The table height is 35 inches

.  This is just odd.  Nearly all table heights are 36, why this is one inch shorter is beyond me.  I plan to insert some wood spacers between the stand and the saw to raise it up to 36 inches.
There is no soft start on this saw anymore.  But it turns out my 15 amp miter saw also lacks soft start.  It isn't a problem in my shop, I have 20 amp breakers that seem to handle the load just fine.
Initial Conclusions
I like the saw.  After I spend more time I will write up some more detailed comments.
Best I can tell, the base Dewalt model is nearly identical to the high end Dewalt model in the sawing and motor components.  But unfortunately, they really charge you a hefty premium for simple features like additional capacity.
Initial Impressions of Rigid R4510 Table Saw
Initial impressions after unboxing and setting up the Rigid R4510 Table Saw.
Written by:
Kevin R Keegan
Date Published: 10/03/2014
While heavy and difficult to assemble, the table saw seems sturdy, accurate, and feature-rich.