The Perfect Single Meal Soylent Container
The Perfect Single Meal Soylent Container
I was a one week supply backer and last week I received my first shipment. My personal use for Soylent is as a Breakfast replacement and so far it has been working well, but I will wait a few more days to post my initial reactions to the product.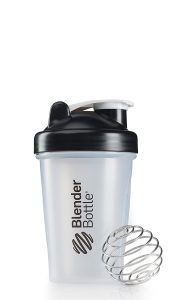 ender Bottle to be the perfect size. It holds a tight seal, and when filled with a single meal there is about an inch or so of extra airspace to allow for shaking.
On a related note, the free pitcher that comes with the initial shipment of Soylent is just okay. In fact my initial reaction was that it was very cheap. The Soylent logo is provided as a sticker that you have to apply yourself and the plastic feels only slightly better than a disposable water bottle. After using it for a few days, impression has improved somewhat, the leak-proofness is very strong and the ease of opening and closing the spigot is nice but it still seems rather cheap.
My process has been to mix up the entire three meal quantity in the large pitcher and then transfer it to my small single use pitcher each morning. I assume mixed Soylent in the fridge will last three days?